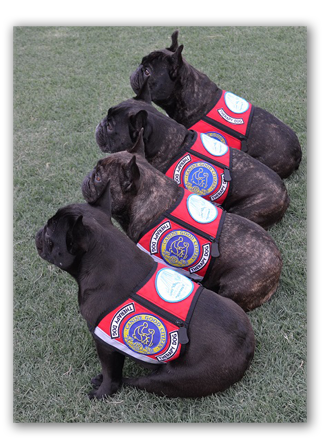 Therapy dogs provide unconditional love and empathetic support to persons in nursing homes, hospitals and other long term care facilities. Therapy dogs are comforters and distracters from pain and loneliness. Therapy dogs have been known to lower blood pressure and elevate energy levels. Therapy dogs help people shift their focus and boost their spirits. Therapy dogs also work in schools and with children's groups where their non-judgmental presence encourages children to improve their reading skills and learn about the canine-human bond. Therapy dogs are working healing miracles.


In order to become certified, the dogs must initially be endorsed as "good therapy dogs" by veterinarians. The dogs are trained and tested on basic obedience commands such as sit, down, stay and come. The dogs are also trained and tested in their abilities to interact properly around other canines, awkward strangers, medical equipment, walkers, crutches and wheelchairs, as well as remain calm and stable around food distractions, different sights and sounds they might experience in hospitals, nursing homes and school environments.

I am proud to have 4 generations of Therapy dogs heavily involved in the Therapy world. Gimme is the father to Trinket and Trinket is the mother to Cruise & Jade, and Trinket is the grandmother to Skye. Gimme, Trinket, Cruise & Jade have all received the French Bulldog Club of America Lifetime Achievement Sterling Award for Outstanding Achievement in Therapy.

The picture on the right is (from bottom to top): Jade, Trinket, Gimme and Cruise.


When Gimme retired as a Champion from the dog show world, he went to live with Mary & Paul Raleigh. Paul and Mary soon realized Gimme's "GIFT". The Therapy dog world soon became a passion for the Raleigh's and their frenchies Gimme, Trinket, Cruise & Jade are all American Kennel Club Champions, Canine Good Citizens, and are all certified Therapy dogs with the Bright and Beautiful Therapy Dogs, Inc a non profit organization.

Paul and Mary Raleigh are now both certified American Kennel Club Canine Good Citizen Evaluators, Bright and Beautiful Therapy Dog Evaluators and Bright and Beautiful Therapy Dog Handlers.

To learn more about the HaloRidge Therapy dogs, please click on their photo's and check out their individual pages.