As a young girl I used to sit at home and watch dog shows on TV wondering what it would be like to show dogs for a living once I grew older. Then one day I was treated to my first local dog show and it was love at first sight. From that moment on I knew that I could, and that I would ultimately do this!! In 2004 I started showing dogs for friends of mine and apprenticing under a professional handler to learn all I could. I have had the privilege of showing and pointing various breeds such as Black Russian Terriers, Border Terriers, Bouvier De Flanders, Bulldogs, French Bulldogs, Ibizan Hounds & Japanese Chin.

In 2006 I acquired my first French Bulldog; a lovely older cream bitch, Bridgecreek's Dreams R of This (DG), she was an exceptional example of the breed but hated to show. None the less she wiggled her way right into my heart and so my love for the breed was born. January of 2008 DG finished her AKC Championship.

In June of 2009 her son Gimme became my first bred by champion and the first dog to carry my kennel name CH Haloridge's I've Got it Covered, CGC, THDX, ROM (Silver), FBDCA Sterling Award. Even though he is now retired he will always hold a very special place in our hearts.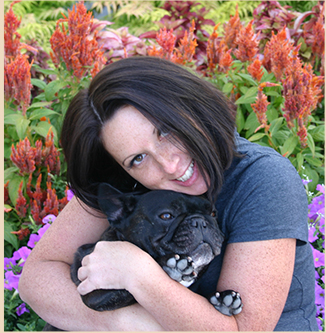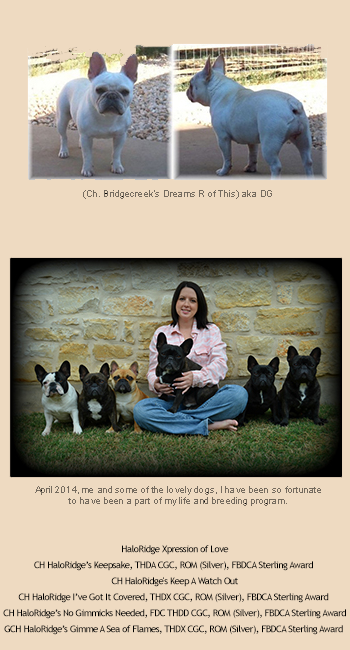 I spend hours of sleepless nights in the whelping box raising these babies, whether it is to be a future Champion or a well rounded family pet. Every one is raised as if it were a BIS winner and each puppy is well socialized and on its way to being housebroken before it leaves.I was a pet owner for many years before I bred my first litter, thus I try to put forth every effort to breed the best I can, which includes health testing for hips, spine, trachea, eyes and patellas.


HALORIDGE FRENCH BULLDOGS
Located in Seminole, Oklahoma
.